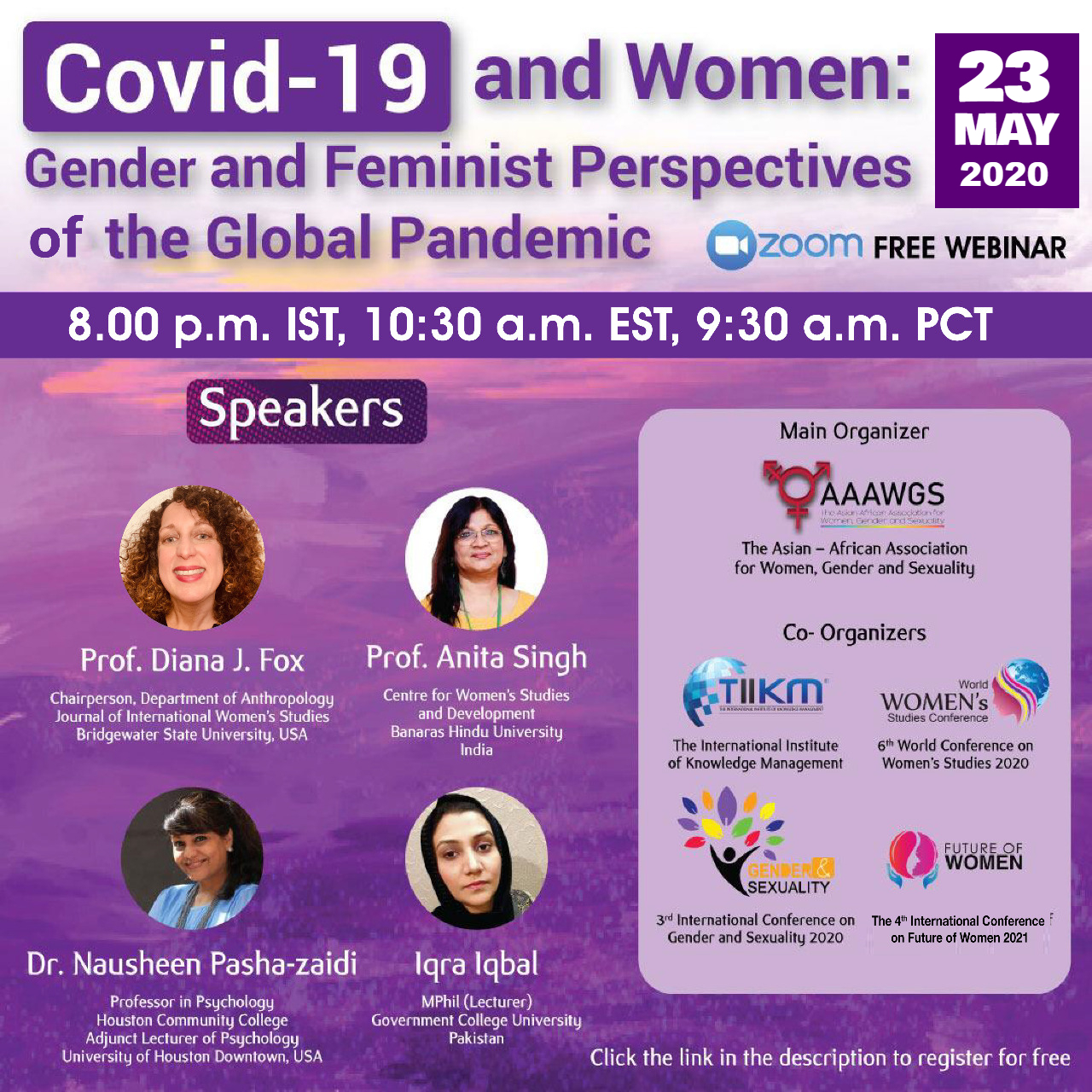 COVID – 19 AND WOMEN: GENDER AND FEMINIST PERSPECTIVES ON THE GLOBAL PANDEMIC
The Asian African Association for Women, Gender and Sexuality (AAAWGS) is organizing a free webinar on "COVID – 19 and Women, Gender and Feminist Perspectives on the Global Pandemic" with the collaboration of The International Institute of Knowledge Management (TIIKM), the 6th World Conference on Women's Studies (WCWS 2020), the 3rd International Conference on Gender and Sexuality 2020 (Gender and Sexuality 2020) and the 4th International Conference of Future Women 2021(FOW 2020). As we all are facing consequences of this pandemic situation, it is important to have a path to understand how we should react today. Understanding the requirement of the community, AAAWGS has decided to conduct this webinar with world renowned speakers in the field of Women, Gender and Sexuality.
Diana J. Fox – Chairperson, Department of Anthropology, Journal of International Women's Studies, Bridgewater State University, USA.
Prof. Anita Singh – Center for Women's Studies and Development of Banarans Hindu University, India
Dr. Nausheen Pasha-Zaidi – Professor in Psychology, Houston Community College Adjunct Lecturer of Psychology University of Houston Downtown, USA
Iqra Iqbal – MPhil (lecturer), Government College University, Pakistan
AAAWGS warmly welcomes you to bring your insights to the discussion.
Date: 23rd of May
Time: 8.00pm IST