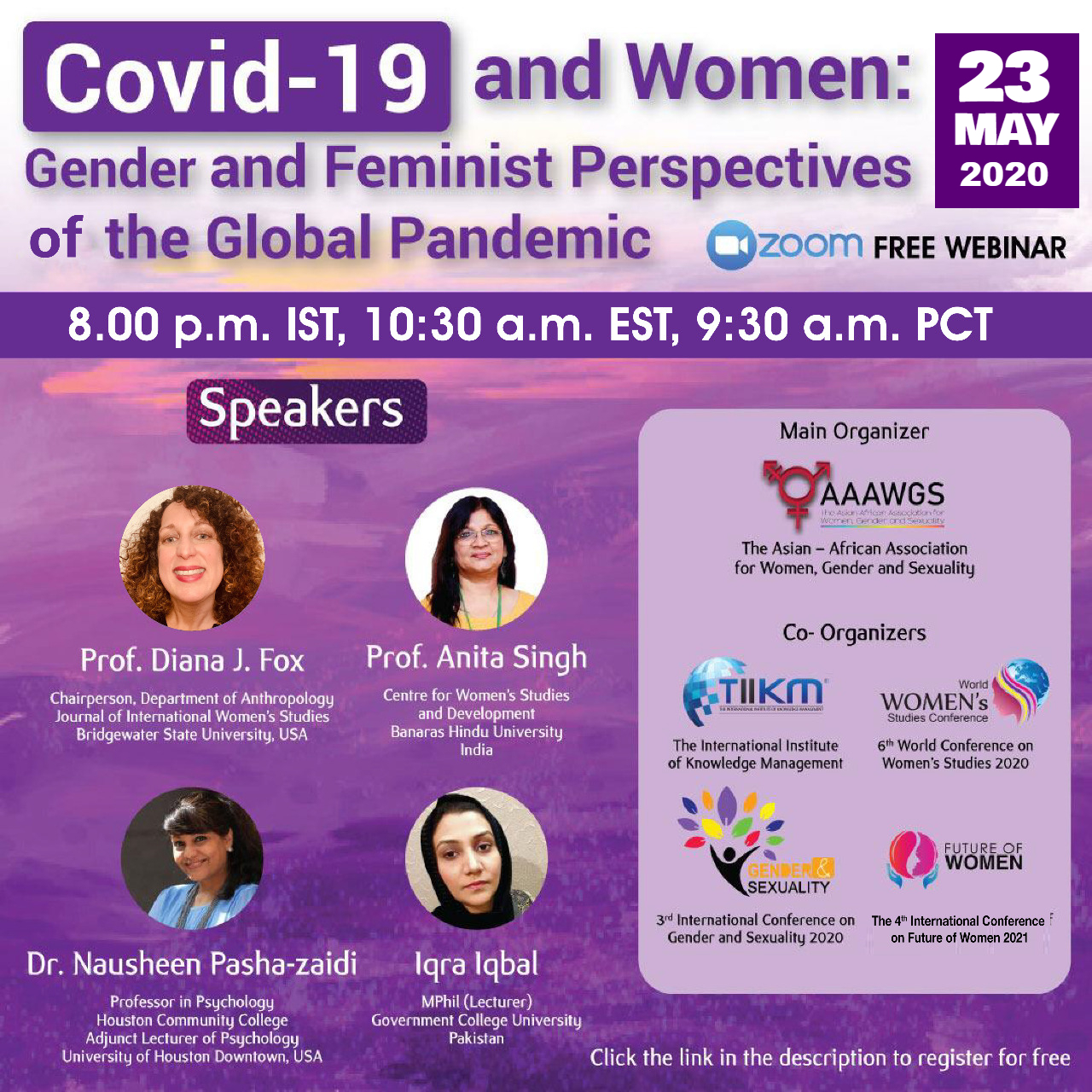 COVID- 19 AND WOMEN: GENDER AND FEMINIST PERSPECTIVES ON THE GLOBAL PANDEMIC
AAAWGS has organized free webinar "Covid- 19 and Women: Gender and Feminist Perspectives on the Global Pandemic" in collaboration with 6th World Conference on Women's Studies, 3rd International Conference on Gender and Sexuality, 4th International Conference on Future of Women and The International Institute of Knowledge Management (TIIKM) on 23rd May 2020.
In this pandemic situation it is important to educate the society about the response or behavior should be happened such crisis. Understanding the requirement the Asian – African Association for Women, Gender and Sexuality (AAWGS) was gathered the subject experts under one platform to provide solutions for us.
The discussion was conducted by Prof. Diana J. Fox, Chairperson, Department of Anthropology, Journal of International Women's Studies, Bridgewater State University, USA, Prof. Anita Singh, Centre for Women's Studies and Development, Banaras Hindu University, India, Dr. Nausheen Pasha-zaidi, Professor in Psychology, Houston Community College, University of Houston Downtown, USA, and Iqra Iqbal, MPhil (Lecturer), Government College University, Pakistan.
In the midst of the pandemic, there are many cases have reported under the domestic violence. Gender-based violence (GBV) increases during every type of emergency, whether during economic crises, conflict or disease outbreaks. The current reasons are economic and social stress caused by the COVID-19 pandemic, coupled with restricted movement and social isolation measures, have led to an exponential increase in GBV.
Many women are in 'lockdown' at home with their abusers while being cut off from normal support services. Due to the breakdown of the financial, the corporations are already terminated employees, as a result of that people are stressed about the expenses and losing jobs. On the other hand such quick decisions was tended create a mental breakdown of the people where they have no idea how to response for the problems. As a result of that fight or hurting someone was the quick action taken in order to release stress. As always in that situation the "woman" is the cause for all. The care burden on women is already massive; the state of emergencies proclaimed around the world will have an effect on our freedoms and human rights; our mobility will be different. But while we cannot (for the time being) do anything about how the virus operates, we can use this momentum to start transforming how our societies operate".
The webinar was happened for 2 hours and there were more than 300 participants (women and men) and more than 100 people watched from Facebook live. People raised their questions at the Q & A session in the end and the panelists have created a positive thoughts of the listener's mindsets.
VISIT WEBINAR >>