LET'S ORANGE THE WORLD
FOR 365 DAYS
Orange the world? Yes! You heard me right.  Have you seen women, girls, and even more cities decorated in orange color over the past week?
Around the world women and girls suffer significantly to different degrees from the many competing demands made on them. From home chores to office working environments many women continue to share similar plights in double or triple work burdens as well as gender-based violence (GBV). Recently, the United Nations has brought women and girls together under the theme "Orange the World". This 16 days Activism campaign was designed to disrupt gender-based violence (GBV) on Human Rights Day, because "Enough is enough": no more abuse against women and girls. But will it stop from here?
Whether it's online, at home or in public spaces, women and girls are subjected to sexual harassment, discrimination, abuse, verbal or physical violence, forced marriages, child marriage, trafficking and other, forms of violence, which should never be tolerated or normalized. In light of the COVID-19 pandemic, Angelina Jolie, UNHCR, the UN Refugee Agency Special Envoy stated "137 women a day die at the hands of an intimate partner. It's domestic, it's global."  That's over 50,000 human lives lost every year. This clearly shows that under the pandemic women's vulnerability to violence has skyrocketed, although GBV is a normative part of daily lives even before the pandemic for too many women.  This is a silent crisis within a crisis. Now more than ever, it's time to say: enough is enough!
Harmful practices against women and girls should never happen, because girls and women are human beings and women's rights are human rights: all deserve to be happy and independent. International agencies like the UNHCR, UNFPA and UNICEF work tirelessly with victims who are mostly women and adolescent girls to support them virtually or physically. There's nothing "normal" or "cultural" about violence against women and girls although too often those who perpetrate such violence claim that women are naturally subordinate and that cultural norms permit such actions. It's time to stop making excuses. It's time to step up efforts to end gender-based violence since each one of us can make a difference by doing it so.
However, we cannot say that we're close to achieving gender equality. At the state level, women's exclusion from policy-making at the economic level contributes to sustaining women's poverty. Low rates of girls' secondary education combined with early marriage contributes to early pregnancies, and extreme poverty. They and their infants often suffer health risks due to lack of knowledge and access to prenatal care. There are no simple answers to these problems. But there are several things we know do work. Making a financial investment in women's and girls' rights and opportunities works. Having women in decision-making roles works. The 16 days of activism against gender-based violence urged governments to prioritize the needs of women and girls in their Covid response and recovery efforts – and to make sure women themselves are driving the decision-making process. The choice we make now matters. Let us all be a part of this change to end the pandemic of violence against women once, and for all.
Written by,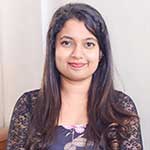 – Nilakshi Goonethilake – 
An Independent Researcher,
BA (Hons) in International Relations,
University of Kelaniya,
Sri Lanka.