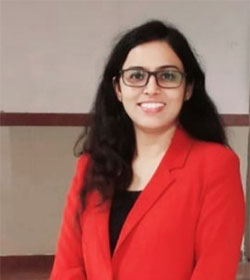 DR. SHYAMKIRAN KAUR
---
Country Representative
Dr. B.R. Ambedkar National Institute of Technology,
India.

Dr. Kaur has a PhD in Comparative Literature from Central University of Punjab, Bathinda. Her MPhil is from the same institute in Comparative Literature and a Masters in English from Punjab University, Chandigarh. Kaur has done various courses from Eminent institutes such as "How to Succeed At: Interviews." The University of Sheffield, United Kingdom, "How to Read a Novel." The University of Edinburgh, United Kingdom, "Working with Translation." Cardiff University, United Kingdom
Kaur is an Assistant Professor (English and Soft Skills) in the department of Humanities and Management, Dr. B.R. Ambedkar National Institute of Technology, Jalandhar (NITJ) since 2018. Kaur has been diligently involved with studies related to gender studies, diasporic studies, postcolonial studies, comparative literature and Communication Skills. Before joining NITJ, Kaur worked at Guru Kashi University (GKU) as an Assistant Professor in the Department of English in 2017. Even served GKU as an Assistant Dean Research. Kaur has also worked at Akal University as an Assistant Professor (English), Faculty of Foreign and Indian Languages in 2016 and Central University of Punjab as a Guest faculty in 2016.
Kaur has published and presented several papers in journals and conferences of national and international repute. Kaur has organised numerous short term courses, Symposium, Webinars, National and International conferences in the field of Gender Studies and Soft Skills. She is a supervisor of two doctoral students. Currently she is holding various dignified positions such as Assistant Training Officer of NITJ, Faculty Coordinator of We Can Club, Zeal Society and Literary and Debating Club of the Institute, Faculty Coordinator. ARIIA. Institutions' Innovation Council of MHRD .Member, Innovation Club, NITJ; Co-Cordinator, Swachh Bharat Abhiyan, Member PRO Office, NITJ. Kaur is a founder of "NIRPARAM" an organisation devoted to uplift and empower the rural arena Students of Punjab. It also deals with Women Empowerment. Primarily to have Gender Equality and Respect for all human beings.
She is also a member of Editorial Review Board. Journal of International Women's Studies. Kaur is also Member of The Association for Women's Rights in Development, Toronto, Canada and "Honorary Life Member" of ALL Ladies League (ALL), Member, Organisation for Diaspora Initiatives (ODI), Punjab President. Elder Care. Women's Indian Chamber of Commerce & Industry.