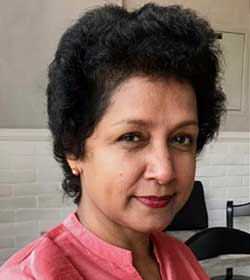 DR. MOLY KURUVILLA
---
Advisory Member
University of Calicut,
India
Dr. Moly Kuruvilla is the Founding Director and Professor at Centre for Women's Studies, University of Calicut.She is the author of the Books 'Discrimination Against Girl Child: The Trajectory of Missing Girls' (Gyan Publishers, New Delhi) and the Malayalam Book 'Life like a Tale: A few Counselling Experiences' (DC Books, Kerala). She has also authored a Gender Training Manual titled Towards Sustainable Development published by the Canada based NGO, Save a Family Plan. She has served as a member and National Resource Person of the UGC National Consultative Committee for Capacity Building of Women Mangers in Higher Education and has been the Regional & Sub Regional Coordinator of the same. She has adorned several senior positions at University of Calicut like Director, UGC Academic Staff College, Director, Institute of Tribal Studies and Research and Chairperson of the University Complaints Committee that looks into cases of Sexual Harassment in the campus and affiliated colleges.
Dr. Moly Kuruvilla has seventy five research papers on various education and gender issues published in reputed National and International journals. She has also completed several research projects in the area. She has presented numerous papers on different aspects of women's lives in various national and international seminars. She is an executive member of numerous research bodies and teacher's organizations throughout the country. She is also a member of the Board of Studies of Women's Studies at PG and M.Phil levels in various Universities and is the Chairperson of the same at University of Calicut. She is a member of the PhD Assessment committee of several Indian and foreign Universities.
She is a resource person of various government entities like the IMG, Social Welfare Department, Women's Commission, Women Development Corporation, ICDS, Police Department etc and that of the inservice teacher training programmes of the Dept of Education. She is also a resource person of the Pastoral Orientation Centres. She is well known for her gender sensitization and adolescence education training sessions and motivation talks to students and parents. Thousands of parents are being benefitted from the Effective Parenting classes delivered by her. Her present research is mainly focused on gender bias in education, SRH Rights and Gender Based Violence. The 28 years of teaching experience at school, college and university levels and the 20 years of experience as a counselor has contributed to her scholarship on various gender issues. Dr. Moly Kuruvilla contributes immensely to the empowerment of women in Kerala with the firm belief that an empowered woman is one who motivates and facilitates her less fortunate sisters to grow and develop. She is actively involved in the gender sensitization of men and women at various levels and many spheres of public life.